Repair and Repair Cafes
Cycle Repair
Recycling Centres
Recycling Collections
Circular Economy
Reduce Waste Before Recycling
We are all familiar with the mantra, "reduce, reuse, recycle", but times are moving on and the seriousness of our waste problem is beginning to hit us.
We used to think we were living on a big planet, but it seems to be shrinking and there really aren't many more places left to put our waste - and, the waste we have already dumped doesn't seem to be going 'away'!
Much as many of us don't really want to think about it too much, some have got excited thinking about waste. More people are taking Zero Waste living seriously (here's an introduction to zero waste living), and 'reduce, reuse, recycle' has been maturing and expanding into the 5Rs, and now even the 10Rs - none of which are 'recycle' - the 10Rs are about what you do BEFORE recycling!
'But recycling is good!' you cry. Yes, it is! ... and in Wales, we're good at it!
The latest figures show 2020-21 the recycling rate in Wales was 65.4%, up from a baseline of 4.8% in 1998-1999. The aim is to increase recycling to 70% by 2024-25. On the global recycling leaderboard, Wales are currently ranked 3rd in the world - only behind Germany and Taiwan. The Welsh Government claim that this high rate of household recycling saves 400,000 tonnes of CO2 per year from being released into the atmosphere - which is significant. Certainly an achievement and a reason for pride - but not a reason to kickback and relax - there is more to do!
'Recycle' is only one of the actions in the 3Rs, there is also 'Reduce' and 'Reuse'. In 2020/21, the Wales figure for waste going to landfill was less than 5%. This is well on the way to the Welsh Government's bold circular economy plan to achieve zero waste in Wales by 2050. The earlier we achieve this, the better!
What can we do?
Personal actions to keep us moving in the right direction are:
speak up for single use plastics to be banned,
ensure all plant, food and animal wastes are returned to nature through the Powys recycling centres. These organic wastes are processed through anaerobic digestion, methane-capture composting, or a similar system, to make soil - to grow more food in!
use the 10Rs ... the actions to consider before recycling.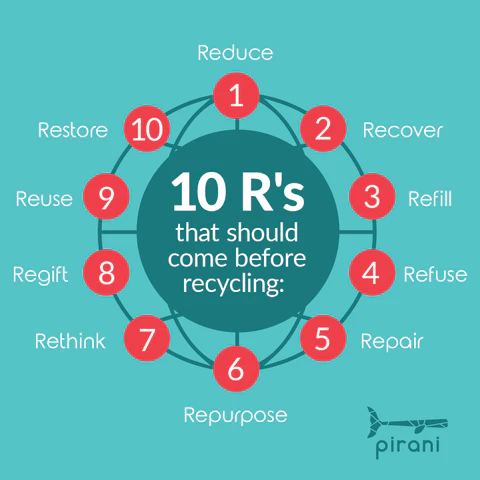 The 10 Rs to think about BEFORE recycling
Let's explore what can be done before we recycle ... this is where the 10Rs come in. They are:
Reduce, Reuse, Refuse, Refill, Repair, Repurpose, Regift, Rethink, Recover, Restore
REDUCE
The most impactful thing we can do is to reduce the amount of new 'stuff' we use on a daily basis. This is a step that makes a real difference.
Also, the longer we use something for before it is disposed of, the less of that item needs to be produced, saving the resources and energy that would have been used to make it. There are also products where replaceable parts give them a longer life and reduce waste, like toothbrushes with replaceable heads.
THINK: What can you use less of? Will this item break easily? Can you buy an alternative that is better quality and will last longer?

REUSE
Start by buying items that are intended to be reused.
Thinking about reuse can lead to a more creative approach to 'waste'. Think of your waste and ways to reuse the products and packaging you might otherwise throw away. You can probably think of some very cool ideas - and there is a lot of inspiration on the internet. I particularly like the Plastic bag seal on this page Try googling 'bottle beds in the garden' ...
THINK: Replace something in your kitchen or bathroom with a reusable version. In the kitchen you could cover food with a waxed cloth instead of cling film, or replace your razor with one that uses replaceable blades.
REFUSE
What products do you use once and are then thrown away? How can you plan ahead to have a more sustainable solution or strategy? What can you say 'no' to?
REFILL
The Welsh Government is firmly behind refill schemes. Julie James, Senedd Climate Change Minister says,
"With more businesses than ever before joining Refill, it allows Wales to become a step closer to becoming the World's first Refill Nation. More Refill Stations in our communities will help reduce the number of plastic bottles from ending up in the sea and washed up on our coastlines. By reminding people to reuse and refill, I hope we will see it becoming a social norm."

Don't just toss away that empty water bottle into the recycling bin. Fill it back up for later! Water refill stations are becoming more common, and Refill.org have an app to help you find them. As well as free water refills, their app lists places offering discounts and rewards for having your own coffee cup, places where you can take your own lunchboxes to get your food to go, and places that are offering plastic-free shopping.
There are some shops that have refill stations for washing up liquid and similar kitchen products, such as Van's in Llandrindod Wells. Some have gone further and are 'zero waste shops' where you take your own containers, such as https://naturalweigh.co.uk">The Natural Weigh in Crickhowell.
It is now possible to buy loose garden compost in reusable sacks in some garden supply centres.
Don't forget to take your own shopping bag to 'refill' when you go shopping!
ACTION: Search for plastic free shops and refill stations in your area.
ACTION: Download the free Refill app from City to Sea CIC on the App Store or Google Play, so you know where you can refill your water bottle when out and about.
REPAIR
Is something broken that can get fixed? Have you asked YouTube how to mend your item. It is a dictionary of help. When our sunroof wouldn't close hours from anywhere and rain was coming in, we were very happy when YouTube was able to tell us how to access the manual control!
If you are not be able to mend it yourself, help may be at hand - there are now a number of volunteer run Repair Cafes across Powys. Most Repair Cafés are regular monthly pop up events where you can get your broken household items repaired, for free, by volunteers (you can also make a donation to support its running costs). The things that are usually able to be fixed include clothes, household electrics, technology, woodwork, children's toys, furniture, and bikes.
The Repair Cafe Wales as well as listing repair cafes in Powys and across Wales, also has a page on how to start a repair cafe in your area, including all the forms and steps you need to take.
ACTION: Could you start a monthly repair cafe in your area?
REPURPOSE
Have something recyclable that may have a second life in some other fashion? Consider alternatives before you recycle anything. There are lots of web posts on this topic! Here's one with a few ideas for the home in it.
ACTION: If you are not practical or don't feel creative, see if you can buy something that someone else has repurposed or 'upcycled'.
REGIFT
Basically, this is giving stuff away. Before anything goes in the bin or to recycling, stop and think, "Is there someone else in my life that might need this?" or, "is there anyone who could use or benefit from this item?" - especially if it benefits your community or a charity in some way. Are there services for people who are struggling or disadvantaged, who may benefit from the item?
There are a number of other ways to give stuff away to people you don't know. Two well known ways are the networks Freegle and Freecycle. You can sell items on Ebay or Marketplace on Facebook, where you can also almost give them away.
RETHINK
This encompasses everything. Often our lives are so busy, it is hard to stop and get the bigger picture of what we are doing, to learn about, consider and weigh up alternatives - are they really harder, are there benefits, what are the downsides, what is the cost of not taking different action? Does what I do matter? Change is needed. Practices companies use to drive up consumption need to become socially unacceptable. Practices such as planned obsolesence, having a business model that encourages us to replace our phones every one or two years, and providing goods in single-use plastic. When enough of us change our choices, it sends a clear message to manufacturers and retailers that they need to change as well.
ACTION: Take a break and think about how you shop and the waste you produce. How can you buy better and create less waste?
RECOVER
Your recyclable materials may be able to get used to fuel something else! Maybe a local or school art project, perhaps you have a cycle repair hub that can make working bicycles from a number of old ones that are too far gone to be worthwhile repairing.
RESTORE
A fabulous R to finish on - Restore. The BBC's popular television show 'The Repair Shop' is all about restoring items, and has opened many eyes to what you can do to bring items to either a former, or a new, glory! Items that are on the verge of going out of the door because maybe they are looking a bit dirty or shabby, a small part of it is damaged, or it is not working like it was, or maybe it is a bit scratched. Some research may show you a way to make them feel fresh again, and be cheaper than buying new. Maybe your item needs a bit more care, and a professional is needed - if it was a quality piece to start with, it could well be worth it.
We have lost a lot of skills that were once commonplace - being able to sharpen knives, scissors and tools. There was a TV and radio repair shop in most towns, people knew how to remove stains and how to mend fabrics. It is time for a new version of these repair and restore centres. The more we can do to value our stuff, and the longer things last, may give us more money to buy better quality.
Thinking about the 10 Rs before sending clothes, household items, and machinery for recycling would make a huge difference - and change the world for the better.
Remember, when we throw things 'away', there is no 'away', it is just out of sight. Recycling helps. The 10Rs help more ...
Community Groups
Page last modified: 08 Feb 2023, 11:37