Have You Heard of the Circular Economy?
We have looked at the 3Rs and went on to look at the 10Rs in our 'Reduce, reuse, recycle' page, and all these actions are part of what is now called 'The Circular Economy'. The concept of the circular economy is a more sophisticated look at our resource use, a model where materials are conserved and waste is avoided.
Resource sourcing, consumption and the associated waste significant contributors to greenhouse gas emissions, heating of the planet, the decline in biodiversity, pollution, decline in soil health and the state of rivers and oceans, and is detrimental to public health as well.
In order to tackle the climate and nature emergency, moving to a circular economy – where in use and waste is avoided - is essential. Our consumption and associated waste is a key contributor to the emissions heating our planet, the decline in biodiversity and is also detrimental to public health. A move to a circular economy will not only kick our single use habit and decrease our emissions, but it will build supply chain resilience as reused materials stay in Wales and substitute our reliance on raw materials from overseas.
A Linear Economy
Our society is set-up to take natural resources, make them into things, and then dispose of them when they're no longer considered useful or desirable. This is known as the linear economy.
This means that items go from useful to pollution, and leads to a process that constantly depletes resources - which can't go on forever - it isn't sustainable as the planet's resources are finite, and every time we dig up raw materials and make new products, we use limited resources and emit carbon from the fossil fuels used to manufacture and distribute items. Everything we discard can end up polluting our environment.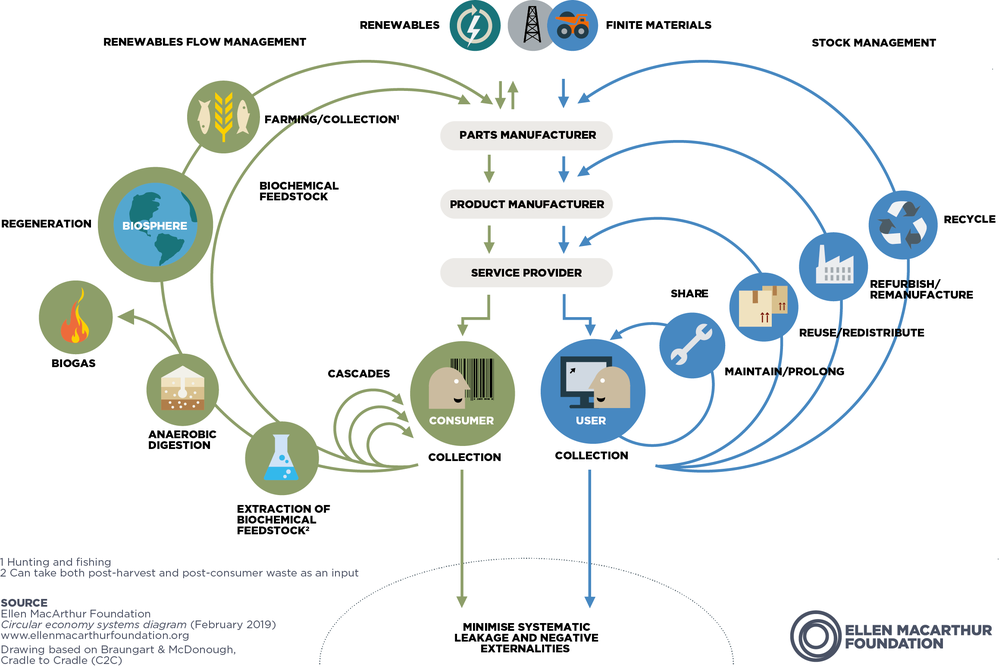 What is the Circular Economy?
Here's a great introductory video on the Circular Economy from what both the linear and circular economies are from the Ellen MacArthur foundation, who are a key charity working to support the development of Circular Economies.


A Circular Economy is Different
It is a way of organising resources so that materials and products remain in use for as long as possible, by making them durable, repairable and upgradeable. When they are finally no longer fit for use, we would currently throw them away to become 'waste', in a Circular Economy these materials and product are used to make new products. This could be by upgrading them, repairing them or recycling the individul materials they are made from. Organic material is composted and made back into soil to grow more. This is all powered by renewable energy.
Here's a great video from Dame Ellen MacArthur on how sailing around the world led her to realise how our resources are precious and we need to see them differently. She draws on how living systems have developed ways to create a continual renewal of resources, offering us insights into how we can re-design our systems so that we can continue to live comfortably for thousands of years to come in our world of finite materials.
Community Groups
Page last modified: 13 Jan 2023, 18:20